Ahsoka is a character in 
John Smith 10
. She is a Togruta in the 
Plumbers
.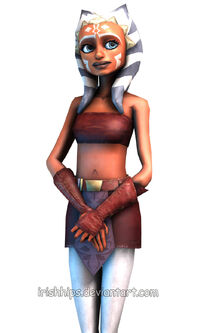 Appearance
Ahsoka has a humanoid appearance, with red skin. She has tentacle like head-tails, which acts like hair. Her typical outfit is a revealing red top, a red skirt and tall white stockings.
Personality
Ahsoka was orignially a very timid girl, afraid of dying or getting hurt. She would hold back and allow others to do her duties and take the lead. John was originally irritated with this, and made toughing her up one of his main priorities. Over time, she overcomes this, becoming a leader John could trust. She stood up for her beliefs, and leaves the Plumbers with John to save Lucy, her friend.
Powers and Abilities
Ahsoka has not shown any abilities, though she's been shown to be good with weapons, and is able to fight in hand to hand combat.
History
Ahsoka graduates the Plumbers' Academy right before John joins the the Clone Wars. She is placed under his command along with Tack. The three command an army of clones. However, Ahsoka was very timid and fearful in battle, causing her to hold back. John confronts Ahsoka several times about this, before she finally reveals her fear of death. After John helps her get over it, she sees John as a friend, and one she can trust.
She befriends Gwen and Lucy quickly, before Lucy is arrested for treason. She decides to leave the Plumbers with John and Gwen to rescue her. After John's and Kevin's mutations, she joins Gwen, Lucy and Eunice on their mission to stop the Separatists. After the events are over, she goes to Earth with Gwen and Kevin.
It's revealed that she was turned into a zombie like the rest of Earth's inhabitants, and serves Phantom in the New Chess Pieces.
Appearances
See also
Community content is available under
CC-BY-SA
unless otherwise noted.