Aglaope (pronounced ag-la-o-pee) is a villain in the series Simien 10. He is a plumbers kid whoes mother is a Thelxiepeian, a alien species that looks similar to the mythological creature Siren, and father who is a Sonorosiansss (Echo Echo's species). He likes to eat humans. He appeared in the episodes (by order): "Siren Song" and "League of Simien's Enemies".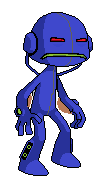 ==
Duplicating himself
Shooting soundwaves from his mouth
Flying
Controlling minds using songs
Weaknesses
If his mouth is clogged he can't use any power except flying and duplicating
Species and Planet
Species: Half Thelxiepeian and half Sonorosiansss
Planet: Sonorosia
Appearence
He looks like a blue Echo Echo
He has brown eagle wings under his arms which uses to fly
Community content is available under
CC-BY-SA
unless otherwise noted.