This is the version of Adwaita that appears on Earth-68, the universe owned by Dioga beta. He appears in the John Smith 10 franchise and Ryder 10.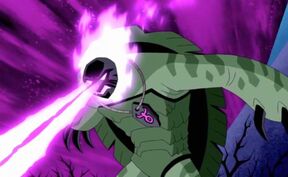 Adwaita is the ruler of Ledgerdomain, and the one who killed Charmcaster's father. He first appears when Charmcaster convinces John to help her defeat him to save her people. While they don't manage to defeat him, Charmcaster gets left behind in Ledgerdomain. When they finally go back to save her, it's revealed that she now rules Ledgerdomain, and Adwaita tries to get his power back.
When Phantom arrives in Ledgerdomain, he restores Adwaita's power, and puts him back in charge of Ledgerdomain. He tries to prevent John, Hex and Charmcaster from leaving, though they escape. Adwaita fights Hex in the fourth round of the War Game in Ledgerdomain. While originally overpowered, Hex used dark magic to seal Adwaita away, causing him to be lost.
Adwaita is revealed to have survived, and was the prisoner of Psyphon, the new ruler. Even after Charmcaster took back control, he is still imprisoned.
Appearances
Adwaita appears in Ledgerdomain, where he is the ruler. He fights the group when they enter, and presumably kills Charmcaster.
Appearances
Ryder 10
Secondary Enemies
Bounty Hunters (Kraab, Goyle, Sixsix, Sevenseven, Eighteight, Vreedle Brothers) | Vulkanus (Crabdozer) | Seebik | Psyphon's Gang | Dr. Animo | Zs'Skayr's Followers (Viktor, Yenaldooshi, Mummy | Dr. Psychobos | Road Crew (Baron Highway, Road Rage, Fistrick, Corvo) | Spark Plug | Esoterica | Lucubra | Incurseans (Milleous, Jorgen Von Strangle)
Omnitrixes
Omnitrix | Nemetrix | Ultimatrix
Community content is available under
CC-BY-SA
unless otherwise noted.