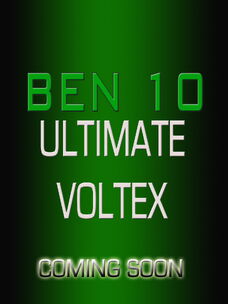 Ben 10 Ultimate Voltex is an animated film based on the American animated television series Ben 10. It aired Coming soon.
Plot
Their are two Timeline will between Original worlds and A90 worlds. It's started to Original timeline after Albedo got arrested by Plumbers, Ben drive at night along with Gwen Kevin. Suddenly, A mystery portal open and Ben stops. They were out the car and sudden they saw a strange guy name Damon. He met Ben for long time. But, Ben (Original Timeline) never know him until Damon started to fight.
After fight, Albedo,From A90 Timeline, Arrived and Ben saw him. He thought he escaped. but, Albedo never knew what that day (Double or nothing and Night of the Living Nightmare). Now, They against Ben, 2 against 1. Later,...
In A90 Timeline, Ben,Also he is A90 version, told them about mission to saved Ediwana.
Aftermath
Before in episode The Beginning of the End, The Flame Keepers' Circle are walking to Diagon's gate. But, Psyphon shows up. Conduit Edwards ask him his one of him (Vilgax).They against each other until Lucubra Vilgax. He told them to stop and he worked with Diagon.
Characters
Ultimate Alien (Original Timeline)
Voltex (A90 Timeline)
Ultimate Alien/Voltex (Original and A90 Timeline)
Villians from Ultimate Alien (Original Timeline)
Villians from Voltex (A90Timeline)
Soundtrack
Ben 10 Ultimate Voltex Soundtrack
Trivia
Community content is available under
CC-BY-SA
unless otherwise noted.